Khensur Rinpoche Lama Lhundrup
With great sadness at our loss, and rejoicing in all he accomplished, we announce that at 11.10 pm (Nepal time) on 7 September, 2011 (the auspicious 10th day of the Tibetan calendar), Khensur Rinpoche Lama Lhundrup passed away in Kopan Monastery, Nepal, and entered into meditation.
At the time Lama Zopa Rinpoche and all the Kopan monks were doing Heruka Lama Chopa puja for Khensur Rinpoche Lama Lhundrup.
The cremation was on Monday, Sept 12th at Kopan Monastery, Nepal.
Lama Lhundrup will be deeply missed by all at Kopan Monastery and Nunnery, and by the numerous students all over the world that received his untiring advice and guidance over the past 40 years.
Lama Zopa Rinpoche requested all FPMT centers, projects, services and students to please do Medicine Buddha puja (extensive, middle length or brief – whatever can be managed).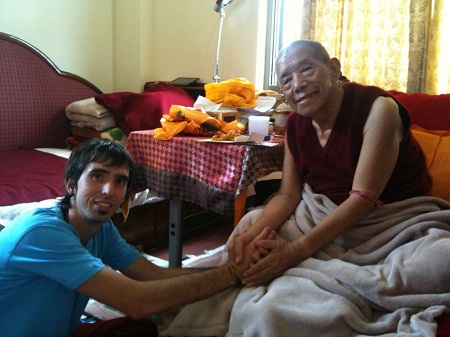 Updates from Kopan Monastery
Oct 10:

Dear Students of Khensur Lama Lhundrup,

Friday was the 28th day of the passing of our most kind and previous Khensur Rinpoche Lama Lhundrup. Already four weeks have passed since he completed his meditation.
On this day, all the monks and nuns performed extensive Medicine Buddha Puja in the morning as well as extensive Heruka Lama Choepa in the evening. In the afternoon, more than 900 monks and nuns from various Gelug monasteries in Boudhanath gathered at the Boudha stupa to recite many prayers, such as the Manjushri prayers, the 8 Monlam prayers and many others.

During the whole 49 day period,  Vajrayogini and Yamantaka Self Initiation is performed every day as well as the recitation of the Golden Light sutra and many mantra recitation.
This is the offering of the Kopan sangha community  to our kind Guru who has taken care of all of Kopan for 40 years, and has sacrificed his life in order to benefit the community, and who out of his kindness has manifested many relics.

On the 28th October we are all commemorating is the 49th day of of Lama Lhundrup's passing.
Everybody is most cordially invited participate in the ceremonies on that day in person or from afar. You will be able to attend the pujas, and also view the relics that will be on display at that time.

If you cannot be here, we suggest that centers and individuals will perform the Medicine Buddha Puja, to create the conditions for the true and unmistaken reincarnation to return swiftly.
We hope to receive soon the English translation of the prayer for the return of the incarnation that was composed by Lama Zopa Rinpoche.

Following the advice received from Lama Zopa Rinpoche, plans are being made to build the commemoration stupa at the Kopan nunnery. It will be a 1000 Buddha stupa, similar to one stupa in Patan.

Please let us know if you are planning to come to Kopan on this occasion so we can prepare accordingly.  There is limited accommodation available at Kopan, but we are happy to arrange guesthouse or hotel bookings for you.

With many thanks and prayers
Kopan Office
Sept 15:
Dear friends,
Tomorrow is the 7th day of Khensur Rinpoche Lama Lhundrub's passing (after completing the meditation).

Kopan Monastery and Nunnery is performing extensive Medicine Buddha Puja at 5.30 am, followed by the recitation of the Prajnaparamita during the morning. In the evening Heruka Lama Choepa with Tsog will be performed.

It would be wonderful if you can participate even from afar in these prayers.

On Sunday morning the cremation stupa will be opened. This will be followed by a procession of the remains into the gompa. Updates and photos of this event will be sent out on Monday

If you would to read the mandala feature on Khensur Rinpoche, or make offerings for the pujas during the 49 days for Khensur Lama Lhundrup you can do so here.

With many thanks
Kopan office
Read more about Lama Lhundrup:
The life and achievements of Khensur Rinpoche Lama Lhundrup (from the current edition of Mandala magazine)
Lama Lhundrup's last day (with photos)
Quick Return Prayer for Khensur Rinpoche Lama Lhundrup in English and Tibetan
Video about Lama Lhundrup from Bodhi TV
Contact Info
1632 SE 11th Avenue
Portland, OR 97214-4702 USA
Tel (503) 808-1588 | Fax (503) 232-0557
About FPMT
FPMT is an organization devoted to the transmission of the Mahayana Buddhist tradition and values worldwide through teaching, meditation and community service.
more...
About Buddhism
If you're new to Buddhism, please read our
Buddhism FAQ
. A place to learn about Buddhism in general, FPMT, and our Discovering Buddhism at Home series.